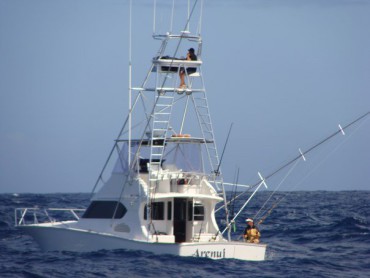 A little patchy is probably the best way to describe the current game fishing front in the far north. The water on the King Bank is fantastic and has been for some time now, however crews have had to hang in there all day in order to get their bites from bill fish. On occasions the bites have come within the last half hour of light. The crews that have been prepared to put in the time have been rewarded with some really big late season striped marlin.
Most of our fish have come by way of live-baiting around the bait concentrations late in the day, however we've also managed to pick the odd one up switch baiting off the edge of the bank during the earlier hours. Some notable catches for us lately have been to Dene Whiting who let go a striped marlin that was estimated in excess of 150kgs, Alan Mouat also released an XOS King Bank stripie late in the day on a live bait after an acrobatic but short fight.
One option that many of our guests have really taken too this year is catching marlin on our Shimano Stella 20000 spin reel. Switching marlin onto spin reels is a lot of fun for both guests and crew. Aucklander, Richard Clark managed to catch a nice stripie on spin reel last week after another tough 30min down-sea fight.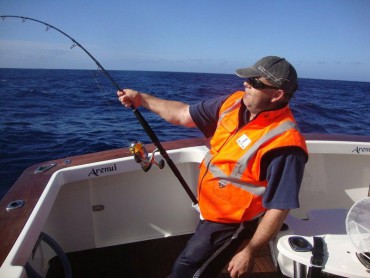 Big mako's and bronze whalers have been pretty previlant at the top end of the King Bank, with many of our toothy friends making nuisances of themselves when we're trying to live bait around the bait schools. Alan Mouat managed to hook a 300lb mako clean through the dorsal fin with a 14/0 circle hook… tricky stuff! After an hour and a half of "skull-dragging", he managed to get it boat side in pretty rough conditions too.
Although we've concentrated much of our fishing on the King Bank, some great action has been happening between Cape Brett and Tutukaka, with not only a large concentration of striped marlin but some really big fish too… one notable stripie going 204kg for well known charter boat 'Primetime'. We'll more than likely make our way down there later this week to make the most of what's left of the bite.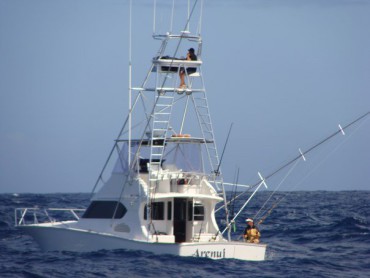 During some of the quieter times during the day, we've also squeezed in quite a bit of jigging and bottom fishing… not only to fill in time, but also the freezer. Bottom fishing has been excellent as always on the King Bank, with plenty of good size kings and mid range bass for guests to take home. During most of our bottom fishing session's, our anglers have given up well before the fish have.
Although we haven't put any time in yet ourselves, some good catches of swordfish have been made by some of the charter boat fleet. 'Te Ariki Nui' has managed to catch two over the past couple of weeks and 'Major Tom II' managed to catch a 266kg beauty for long time angler Jerry Garrett. We're certainly looking forward to the next nice night over the coming few weeks.
As things progress over the next few weeks we're hoping for what should be a good late season bite on the banks. The water is plenty good enough and with good concentrations of bait late in the day there's no reason why we shouldn't expect good fishing at some stage pretty soon. We'll have 'Arenui' up north for another month or so yet so we'll look forward to keeping you posted with more good news… Talk soon!