The comings and goings during the month of April is a little more difficult to write about this time round considering I wasn't on board Arenui for a majority of it. I had enough on my plate at home without keeping up to speed with what was going on in the gamefishing scene. As mentioned in the March newsletter the reins were handed over while I was at home for the birth of our second son Josh… and yes things are going really well at home.
The month of April probably started off just as bad as March was weather wise, we started April with another 40-50 knot easterly forecast. By then we were well and truly use to it and started looking forward to the 25 knot days!
It was around Easter time that we started getting some form of settled weather pattern,  well certainly more than a day or so anyway. These settled weather patterns coincided with a pretty good Swordfish bite off the Far North coast with several boats cashing in on the good fishing. The most notable catch amongst the fleet was without doubt Primetime's 404kg world record on 80lb. I didn't have the pleasure of seeing this fish myself, but by all accounts it was an incredible looking fish. I personally can't think of a more deserving world record, catching Swords is John's thing and a lot of blood, sweat and tears over the past decade would have gone into catching this one. Well done John and Jim, you both earned it!
My last trip on Arenui was during the second week of April with first time guests Garry Douglass and his 4 merry men from west Auckland. Once again the forecast was less than ideal but we managed to make the most of the cards we were dealt, Steve Noyer, Aaron Ayers & Garry had all managed their first (and in some cases) second marlin by lunch time on the second day. We had the King Bank to ourselves and in less than desirable conditions we made the most of a pretty good but short lived bite. Topping the trip off nicely, Mike Choat caught his first Swordfish during a daytime drop on route back to Whangaroa Marina, already looking forward to having you guys back on board next season and upping the stakes!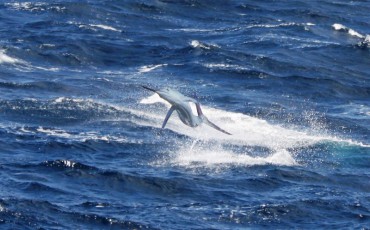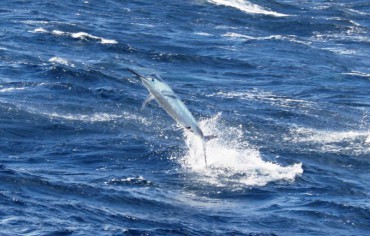 Chris Ash took over in mid April and was ably deputised by Shaun and James. I tried my best to keep out of the guy's hair while I was at home, as not only did I trust them implicitly but they probably had enough on their plate without me regularly checking in to see what was happening. I just want to say what a great job the three of them did, I've had fantastic feedback from all the guests who joined us during the 3 trips and Ange & I certainly appreciate every ones efforts and patience while I was away… guests included.
By all accounts the fishing during the time can probably be best described as steady. The Swordfishing off the coast slowed considerably and the Marlin fishing both along the coast and at the Kings was good at times and patchy during others. The guys managed catches for 2 first time marlin virgins Cyril Brownlee and Lewis Thompson in my absence, well done to those two anglers and look forward to having you back on board at some stage soon. Bluenose fishing was exceptional on the deeper ledges and drop offs with all the groups taking plenty of table fish home. There were also a number of other notable captures and personal bests that haven't been mentioned due to my absence, so certainly no offence intended there.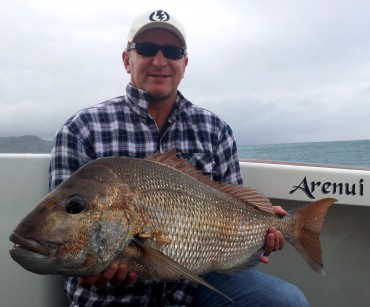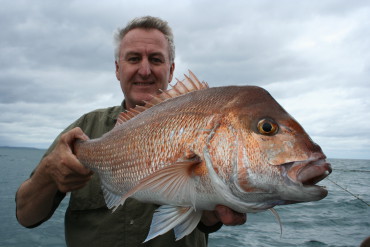 Chris had to contend with fishing without a sounder since our transducer packed a sad on the first morning he took over the wheel. It's certainly a credit to him that all groups went home happy despite fishing with such a huge handicap and pleasure to know I can hand the boat over to someone with great local knowledge and ability.
James Brown finished up with us for the season at the end of April moving onto his annual winter job on board Island Passage in Vanuatu. Big thanks to James for all his efforts throughout the season and I'm sure all our guests will agree he's been an asset to us with his dry wit and fishing expertise. James is unsure whether he'll be joining us again next year as yet, we'll certainly be twisting his arm but wish him all the best with whatever he chooses… thanks again James, legend.
And finally, after a bit of a clean up on board Arenui, we seem to have collected a number of sunglasses, a pair of reading glasses and the odd item of clothing throughout the busy season. Feel free to touch base Geoff(Replace this parenthesis with the @ sign)nzgamefishing.com or 0272 392 744 if you'd like some of the odds and sods returned.
We'll be back in Auckland in about a month's time following a few remaining swordfish trips so we'll post one last newsletter to wrap things up for the 2012 season.
Until next time!