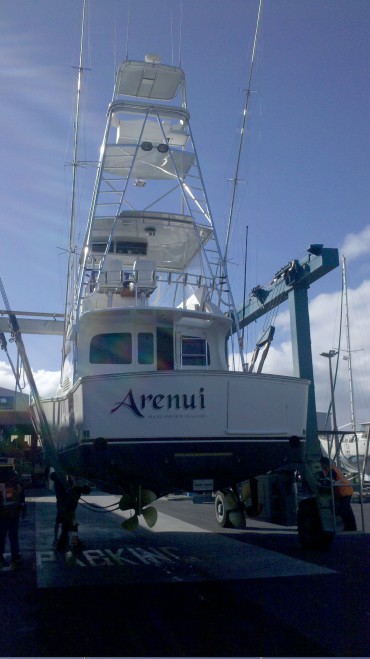 With the winter blues well and truly set in, we've been pretty busy with our winter maintenance schedule. We've had Arenui out of the water for her annual anti-foul, prop-speed and touch up, as of last weekend we had her back in the water looking brand new again.
Nothing major to fix this year (touch wood!)… the engines got their annual birth day and other than that cosmetically a few bill scrapes and gaff head dings in the gel coat were tended to.
Many of our late season guests will also be glad to know that we had the new transducer fitted and above all else… it works, I can actually see the bottom now and hopefully I'll be able to spot some fish! Arenui's now all safe a sound back in Orakei Marina and we're already looking forward to getting her all scuffed up again during the coming year.
Our 2013 northern charter season is coming together really well despite it only being August and all the reported doom and gloom in the economy.  At the time of writing, we have some great times/moon phases available in early Feb, March is full, in April we have just the one 5 day slot available (coinciding with the New Moon) and good  enquiry coming through for the month of May. Anyone keen on securing dates should have a think and get back to us because we're filling up fast… looking forward to summer 2013 already!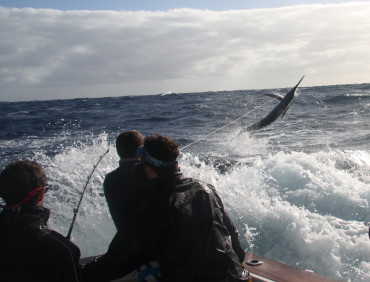 We'll be running the popular "Marlin Master Class" trips (*see July edition NZ Fishing News) again next year in conjunction with the NZ Fishing News Magazine. So far we just have two trips scheduled with one filling almost immediately, the second is scheduled for the 6th – 10th March 2013 in which we currently just have a couple of spots available. Once again feel free to touch base if you'd like to fill any of the remaining spots.
Due to the popularity and success of these trips during 2012, we're really looking at upping the ante next year and making it even more hands-on and informative for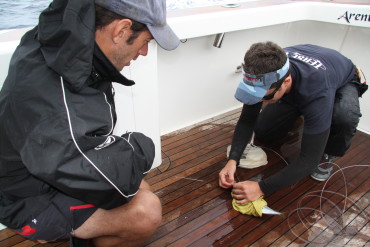 guests. At times (during the 2012 MMC trips) we found it difficult to hold tuition because we had so much 'on the go' as it was. Next year's plan is to be more structured so guests take as much information and knowledge out of the trip as they possibly can. All "MMC" guests will again receive sponsored products from Costa Del Mar and Team Arenui amongst other bits and pieces.
As mentioned we just have the two trips scheduled, but we'd consider a third if the demand was there and as long as we were able to fit it in our busy schedule.
Snapper spawning season is just around the corner. By all accounts things are understandably a little on the slow side around the Hauraki Gulf as we speak, but we can expect and look forward to a stark improvement on this front over the coming month as water temperatures increase and schooling snapper migrate into the Gulf to spawn. Work-ups involving gannets, pilchards, whales, dolphins and the targeted snapper will become more and more prevalent as the coming months lead  through to summer. ?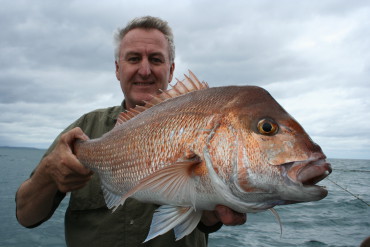 We really enjoy this time of the year, fishing the bait schools and work-ups… it really is a fun way to spend a beautiful spring day out on the water. It's a great way to exercise team building, an informal corporate get-together or purely an excuse to escape the daily grind with friends, colleagues and clients. Give us a call if you'd like to spend a day out with us on the Gulf!
Finally, Shaun is off to Cairns in the coming month. He'll be pretty busy there through to mid December by all accounts, so we'll look forward to some of his stories, footage and photos upon his return. He's obviously returning with us again next year, so many of our guests will be happy about that too… Good luck Shaun!
Anyway, I'll leave it at that for now and look forward to writing our next newsletter. We should have more to report on the fishing front now that I have my head out of Arenui's bilge.
Until next time!