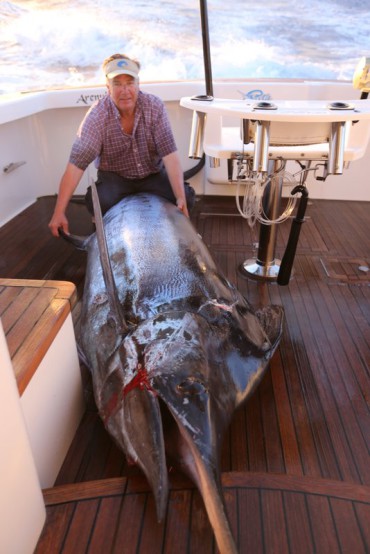 Apologies to those who were hoping for more regular updates throughout the 2013 game fishing season, but a very busy charter schedule put pay to any well laid plans of monthly newsletters and updates. We certainly hope to be a bit more diligent on this front in the future as well as posting regular photos and footage on our Facebook page.
Overall the 2013 season was a good one for us. The fishing could best been described as consistent without really kicking into full swing. We managed notable captures for most if not all our groups throughout the busy season, with the highlight of our season being Andrew Martins 284kg Blue Marlin caught at the bottom end of the King Bank. Andrew's fish was caught during one of our popular "Marlin Master Class" trips, while catching it on 50lb stand up made the capture that little bit more special.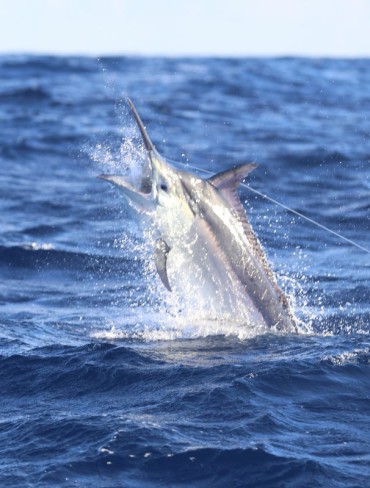 We had a good week during the NZSFC National's where once again the fishing could best be described as steady rather than spectacular. Most of the fleet seemed to congregate around the North Cape/Parengarenga area or wide of Cape Reinga leaving the King Bank almost solely to us.  We appeared to catch more marlin than 98% of the other boats during the week long tournament but oddly never featured at all on the leader board. This despite all our fish being called in correctly and tag cards being handed in on time. Whatever the case we certainly didn't catch more than the well deserving BOI team on board "Striker"… from our side of the fence I can't think of more popular and deserving winners in Bruce Smith and his team.
Other highlights throughout the season were the small flurry of Black Marlin on the King Bank during late March and early April. We managed to cross paths with 5 Blacks throughout these few weeks yet were ultimately only successful at releasing a couple mid range models. Congratulations to our virgin Black Marlin anglers Pete Van Eekelen and Jimmy Stevenson.
Big thanks to Shaun and Marcus for their tireless efforts over the past season, between them (and I think all our groups would agree) we had a pretty switched-on team down stairs. At the time of writing this Shaun was hoping to join us again for the 2014 season and Marcus was undecided due to other commitments. Whatever the case we wish Marcus all the best with what he chooses… despite a few arm twists to join us again over the coming months!
Since late May Arenui has been returned to her home base in Orakei Marina downtown Auckland and it's been another busy stretch of winter maintenance. Our guests will be relieved to know the JEC Combi System that operates Arenui's refrigeration and water maker is in the process of being replaced with a more reliable and economical set up. Other than the huge inconvenience it has caused, returning guests can certainly look forward to standing under than shower for more than 30 seconds on their next trip with us.
Spring is just around the corner and that means the snapper spawning season in the Hauraki Gulf is nearly here. Snapper move into the Hauraki Gulf to spawn between Sept – Dec. During this spawning period "work-ups" involving whales, dolphins, gannets and kahawai, mid-range kingfish and the targeted snapper feed on the carnage beneath. "Work-up" fishing is an ideal way the spent a beautiful Spring day out on the water.
These day trips have proven to be a great way to entertain clients, colleagues  and guests or simply a fun day out with family and friends .We're taking bookings now so be sure to touch base to make the most of the snapper migration in and around the Hauraki Gulf.
Bookings for our 2014 game fishing season are coming together nicely with most of the season confirmed. We do have a couple of available slots but with the level of enquiry coming through filling them shouldn't be too much of an issue.
  We also currently have some availability for individual anglers to join existing 5 day trips in March. We have 2 'Marlin Master Class' trips scheduled, one at the beginning and the second at the end of March. Both these 'MMC' trips have limited space left plus we have another mid March trip that requires a further two guests to make up numbers.
Please feel free to touch base if you'd like to join us on one the trips mentioned as March is always a great time to fish NZ waters. Either contact Geoff(Replace this parenthesis with the @ sign)nzgamefishing.com or please forward our newsletter on to any interested friends or relatives.
Finally a special thanks to the support of Costa Del Mar sunglasses throughout the season and especially during the popular "Marlin Master Class" trips. We look forward to their support in the foreseeable future.
Until next time!