Things have certainly started off well in during the first 6-7 weeks of New Zealand's game Fishing season. Good numbers off Blue Marlin along the eastern coast has certainly been the stand out feature of the season so far. Not only good numbers of blue marlin, but some pretty big ones too. The majority of blue marlin caught have been around the 160-190kg (400lb) range, however a handful of over 300kgs models have also graced the scales over the past few weeks.
Captures most notably of late, the crew on board 'First Affair' with a 315.4kg Blue Marlin also 'Matariki's' 316.4kg beauty caught by a lady angler. Both fish were weighed in Tutukaka and it appears between 200-350mtrs at the back of the Poor Knights has been the most consistent area to target these bigger fish.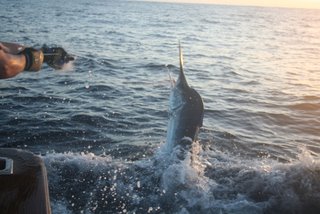 In a little shallower, crews can expect anything from 1-3 bites a day from striped marlin with the 'Kumara Patch" and 'Trench" areas being the more consistent. Most of the stripes encountered have been around the 80-110kg range however a couple of nicer ones have been weighed, again at Tuts during the last week. Angler Norm Morgan on board 'Tagit' weighed a nice one just over 130kgs and the boys on board 'Makaira' managed a 166kg beauty live baiting in 160mtrs east of the Knights. It was Nick Patrick's first billfish so certainly a nice one to kick things off. Well done lads!
We've been fishing out of Tutukaka since the end of Jan, so far we've managed to only cross paths will striped marlin despite a bit of effort going into targeting the bigger blue marlin around. We're fly fishing later this week so Murphy's Law a descent blue will teach us a lesson once we start casting chook feathers around… All good fun!
Other areas of note, the 150-200mtr marks off Whangaruru and Whangamumu have had their moments too, with multiple bites from Striped marlin usually occurring around the tide change on any particular day. The water went a little off there over the last few days and the presence to seiners may have put a hold on that area progressing any further… time will tell.
Out of the Bay of Islands, fishing has been a little mixed with good and slow days. The recent 'Anglers Eldorado' tournament netted some good catches however a majority of the fleet preferred to fish a little further south in the Whangamumu and Whangaruru areas mentioned.
After a hectic start to the season, Whangaroa has been a little on the quiet side over the past week or so despite a hefty 80.1kg Yellowfin Tuna weighed there just over a week ago now. We're all well aware of how rare these fish have been to our waters of late, so any yellowfin of this calibre should be well celebrated. Certainly hope to see a few more of these fish grace the scales over the coming few months.
We'll be fishing out of Tutukaka until mid Feb then will be taking the boat north to our usual haunt of Houhora for the remainder of the season. Certainly looking forward to getting up to the Three Kings as the fishing should be well and truly underway 'up top' if the coast fishing is anything to go by. We'll be there for the Nationals and after, so we look forward to bringing you our next update as the season progresses.
We still have a few mid and late season dates available with good moon phases, feel free to drop us a line to make the most of what's shaping up as a cracker!
Talk soon.