Safe Cockpits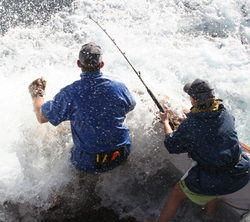 As soon as the words safety and hazard identification are mentioned in any occupation, many employees (including myself) usually roll their eyes with a feeling of here we go again. Although we can all feel like it can be a bit of a pain in the neck at times, keeping safe in the game fishing industry is something that both recreational and professional fisherman need to be aware of. Any mishaps that occur at sea can result in ruining a much-anticipated fishing trip, losing a fish of a lifetime, or worse still someone getting badly injured.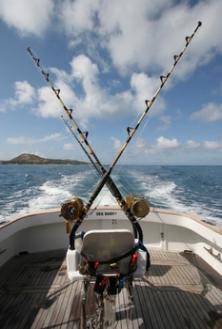 All cockpits are different and some are less safe than others, but the factors that they do have in common is they all move with the sea conditions, they all have sharp objects such as knives, hooks and gaffs and they all have objects that can get under your feet such as ropes and buckets. Being aware of the risks on your individual boat and managing things going wrong are important to ensuring that all cockpits remain safe.
Very few boats within New Zealand are or have been constructed with game fishing solely in mind, with a majority being 'production' boats more suitable for pleasure and private boating rather than 'customised' fishing vessels. Many of these 'production' boats are constructed with a number of features that enhance pleasure boating but can prove to be an inconvenience or in some cases unsafe for game fishing or fishing in general.
Features such as swim steps (or duckboards, as they are commonly called), opened corner cleats, covering boards that are either too high or too low, walk through transoms, transom doors that open out and external rod holders usually mounted on a rail of some sort are common around many of New Zealand's marinas.
As keen fisherman, we always seem to find ways of working around these inconveniences, but attention does need to be paid especially when targeting the larger blue and black marlin or when fishing at night for swordfish.
People commonly comment that it must be really difficult to reverse or 'back-up' after game fish with a swim step attached. Well, in my experience reversing is the least of your problems regarding a swim step, as there are many other ways of catching up to fish than backing up like a madman. Just simply landing and releasing fish on a boat with a swim step can turn out to be a major and unsafe exercise at times especially in rough sea conditions.
Billfish seem to enjoy getting their heads stuck under swim steps, and with other species such as tuna and kingfish, swim steps always seem to be in the road when fish get in their deep circling mode. But it's the practice of having to get out on swim steps and handle these fish, especially in rough sea conditions, on occasions at night and considering wet weather gear is commonly worn by New Zealand crews that makes swim steps not only a pain in neck but generally unsafe.
Open corner cleats have become a common feature on many of the 'production' boats sold on the New Zealand market. These cleats aid rope handling and make tying off boats obviously a lot easier. Unfortunately, as it's easier to get mooring lines on and off these cleats it's also easier to get leaders and gaff ropes caught creating rather sticky situations at times. I guess it comes down to personal preference as to what is more important, but from a game fishing perspective I'm not sure if I'm prepared to lose a fish of a life time or get injured as a result of open corner cleats.
There are a few differing designs of these cleats, but they all can result in losing fish and nasty injuries to limbs and fingers. A good friend of mine, and an experienced wireman had his hand jammed into a cleat while wiring a lively black marlin. As the fish changed direction around the corner of the transom the leader became caught on the cleat, unable to let go of his wraps, his hand was crushed against the cleat until the leader broke. Other inward opening cleats certainly look as if they have the potential to cause a nasty bruise to thighs, hips and rib cages of wiremen.
Customised game boats usually have holes in the top of the covering boards, allowing mooring lines to be passed through to the cleat which obviously positioned underneath. This set-up provides the wiremen with smoother covering board area to work with when wiring fish and there's little or nothing that leaders or gaff ropes can catch on.
Covering boards that are either too high or too low need little explanation for obvious reasons. Vessels under survey have minimum allowances for covering board heights due to MSA regulations, but there are a lot of private boats around New Zealand that don't follow these regulations and have low and sometimes dangerous covering board heights.
I have also seen many surveyed and private boats around New Zealand that I consider to be far too high to safely handle or land game fish. Regularly we see crew being held by their ankles while attempting to get hooks out of billfish prior to release, usually while wearing full wet weathers and gumboots. The thought of trying to release marlin caught on double hook rigs while being held by the ankles does nothing for me…all I keep thinking is thankfully we don't catch more black marlin in New Zealand.
Surely there are other more sensible ways of releasing fish in good health and free of mishap, such as using hooks that corrode and cutting the leader as short as possible. Of course we have the fishes welfare in mind, but common sense should be too.
Walk through transoms, Portofino sterns and pontoon set-ups on multi-hulled vessels are also common in New Zealand. These all are obviously designed for cruising and pleasure boating rather than fishing in mind. The issues here are similar to those encountered with swim steps plus the addition of having little or no protection between anglers, wiremen and the deep blue sea. Reels do jam up sometimes due to bad servicing or 'backlashes', leaders get caught around rod tips and good wiremen sometimes get 'bad-wraps'.
I guess the best way to combat these situations is to always have a knife handy and just take everything at your own pace.
Transom doors are constantly in the forefront of a wiremen's thoughts, especially if they open out, slide or have some sort of flimsy latch set-up. Going through a transom door while pulling on a fish doesn't sound like fun to me. An easy solution to this could be basically replacing any unsafe latches with marine standard deadbolt latches, making it a more secure set-up. Some transom doors may require a bit more attention to make safe, but if you take your game fishing seriously, it could be a worthwhile improvement or investment in some cases.
External rod holders, rails, down-rigger base plates, outboard motors or any other objects that leaders and gaff ropes can be caught on also present a risk similar to that of open corner cleats. Often we can't do much about these inconveniences other than to be aware of what can go wrong. Depending on your preference, wind-on leaders can sometimes minimise the risk to an extent by clearing any slack leader behind the wireman when handling fish boat side.
There's been plenty written about injuries from hooks and I mentioned a few things that I thought were important regarding gaffs in the last edition. I can let you know from first hand experience (excuse the pun), that hooks go in extremely easy and can be a little messy when trying to remove. I always try to have a bucket fixed the base of the game chair so any lures or lose leaders can thrown in there out of harms way and tidied later. What ever your own system involves, all I can suggest is obviously don't leave any lose hooks lying around.
As far as personal equipment is concerned, good crewmen should always wear footwear of some sort, a belt with pliers, a sharp knife or cutters, a good pair of polarized sunglasses and have their own set of gloves. We've all seen some crewmen who get kitted out like inspector gadget; obviously this is a bit of an overkill and unnecessary but the idea is right…I guess.
I prefer to wear sandals in the cockpit, purely from a comfort perspective, but also in case I go over the side (touch wood!)…I can swim. But that's again down to personal preference as there's a good variety of marine footwear on the market today.
There are also a good variety of pliers and tools in tackle stores, but most of the best crewmen getting around today prefer to use the Maun designed pliers. The reason these pliers are preferred is because they're both pliers and cutters, therefore handy around the boat and your able to cut yourself free from a leader if you get in trouble.
A good sharp knife needs little explanation and there are also other mono-cutters on the market today that are safer in regards cutting yourself or other crewmembers in the heat of the moment. Whatever kind you prefer, pliers and a knife are both a must in the cockpit.
Good polarized sunglasses have more than the obvious use. When using monofilament leader with high stretch, leaders break at times and hooks pull and often come back at the wiremen and anglers with little warning. It's therefore important to always wear your sunglasses from a protective point of view, no matter how much salt spray or how annoying they might be at the time.
The last thing I wanted to do was sound like old grandma and bore every one to tears regarding keeping safe as we all enjoy just getting stuck in and usually learn to work around any inconveniences. From personal experiences I can say that mishaps happen very quickly and usually without warning. Mishaps also occur to some of the best crews in the world so there should be no excuses for complacency.
A couple of my friends have been dragged over the side wiring fish and it's not something I want to experience myself or even think about. As I've mentioned before, we all like catching the biggest fish but there's no fish in the ocean that I'm prepared to get badly injured for. For this reason I always try to consider the little things and keep safe… good luck!