The early stages of the 2013 NZ game fishing season can probably be best described as a little patchy. There have been a handful of pretty cool catches along the northern coast but these good catches and good fishing days have been mixed in with a few non eventful days as well.
Finding good water along the coast has been a little challenging over the past 10 days or so with persistent breezes from the westerly quarter mixing things up quite a bit. There's generally a pretty good current running to the south along the coast but any wind from the W or SW has caused a kind of 'wind against the tide' scenario… hence the patchy water quality of late.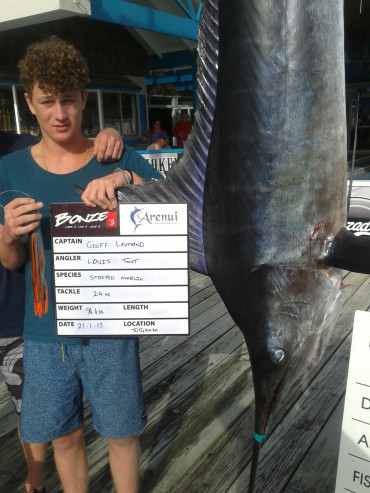 The boats that have found some good water have been best served just hanging in there and being patient as the bites will come, while boats that have ventured off looking for the 'pot of gold' have generally come home empty handed. Certainly no rocket science there, it's just the good patches of water have sometimes only extended a couple of miles across.
We've been marking a few marlin on the sounder throughout the day (more so than the last few seasons) so I'm pretty confident that with the forecast easterly breezes and a continuation of the southerly current we're in for some good fishing over the coming month or so.
Notable catches so far along the coast have been a 291kg (650lb) Blue Marlin taken by Tutukaka-based private boat 'Bosca' and angler Danny Douglas. Another nice 206kg (460lb) Blue was taken on board the Bay of Islands-based 'Anchorage' during the annual Junior Tournament held there. Hats off to a great capture by a junior and by all accounts it's a pending NZ record… well done team!
The sorry tale of Yellowfin Tuna in NZ waters has certainly been no different so far during the 2013 season. One minor bright light to come from this sorry saga was a 63kg ripper caught by the crew on board BOI-based private boat 'Diesel'. We certainly hope that a few more of these fish will grace our coastline but I certainly wouldn't go holding your breath.
On board 'Arenui' our best day so far has been going three for three on Striped Marlin off the northern end of the Poor Knights Islands. As mentioned earlier just hanging in tight in the nice water has been paying dividends for us. Also a special mention to anglers George Foot and Louis Foot for their first billfish captures with us. George fished with us last year and was unlucky to miss a Black Marlin so it was nice to finally get him off his duck.
We're once again busy throughout the next few months so I look forward to keeping you updated as best I can. I'll be doing regular posts on our Facebook page throughout the season so feel free to join us and keep informed on our happenings.
Until next time!