What a start to the 2015 game fishing season! It seems that most if not all New Zealand's hotspots are getting their fair slice of the action and with so many notable captures, it's difficult to single out any one in particular.
Probably the biggest surprise of the past month has been the presence of Yellowfin Tuna… and plenty of them too! Reported captures stretching from Cape Runaway right through to the King Bank, and a real myriad of sizes ranging from 4-5kg 'footballs' right through to an 81kg beauty caught out of the Mercury Bay Game Fishing Club on the launch 'Saracen'. Many boats have been privileged to multi-fish days and catches not experienced along our coastline for over 10 years… all extremely promising and long may it continue.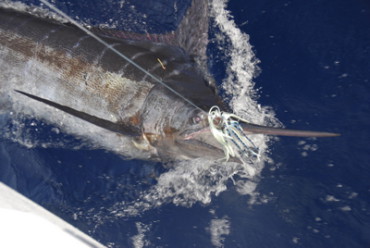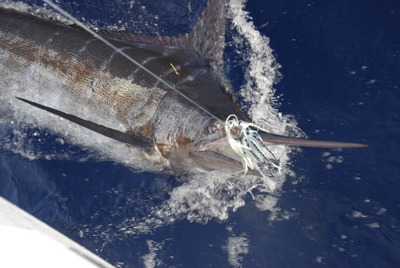 Usually where ever small Yellowfin Tuna are present, Blue Marlin aren't too far away… such has proven to be the case along our coast with a number of notable Blue Marlin captures over the past 2-3 weeks. These captures have ranged from NZ's typical 140-160kg models right through to a couple topping 300kg taken out of the Bay of Island s Club recently. Blue Marlin where somewhat of an absentee to NZ waters in 2014, it's great to see them back so early this season and in good numbers. Looking forward to hearing reports on this front from around the traps… hopefully someone can stay connected to a truly big one at some stage over the coming months.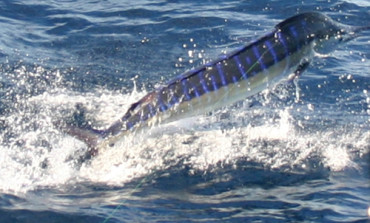 NZ's 'bread & butter' game fish, the humble Striped Marlin has been somewhat of a forgotten bystander over the past month or so despite a quite few notable captures. With reports of large concentrations of inshore bait there's potential for some excellent Striped Marlin fishing this season. The first Striped Marlin was T&R surprisingly early on the 6th Dec by angler Kyle Ridling on board "Yonkers" and since Stripey's have been present just about everywhere with reported captures as far south as the Hawke's Bay which witnessed their first marlin capture in 3 years. Once again all very promising and exciting for anyone planning to get amongst it this season.
With further reports of Black Marlin, nice size Bigeye Tuna and Spearfish, the NZ season is shaping up as something truly special. Once every ten years or so we usually witness a season to remember, here's hoping the weather and fishing gods hold out over the coming months and produces one out of the box.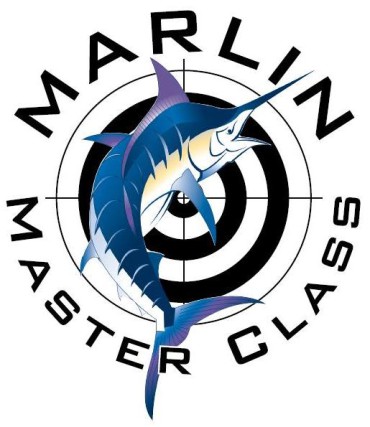 Despite a concerted effort, we still have a couple of trips that require individuals to make up numbers, these two trips are scheduled:
* 18th – 22nd Mar (only one spot available!)
* 30th Mar – rd Apr (2 spots available!)
Due to popular demand we're also planning to run a fourth and final 'Marlin Master Class' trip in conjunction with NZ Fishing News Magazine, this trip is scheduled:
* 5th – 9th May
Considering the moon and tides, each of these trips has the potential to fish really well at the Three Kings Islands. Don't miss out on what's shaping up as one of our better seasons for quite some time! For more


information on costings and availability, please contact Geoff(Replace this parenthesis with the @ sign)nzgamefishing.com or +64 272 392 744.
As mentioned in our previous newsletter, in conjunction with NZ's very own Kilwell Sports we ran a competition to "Guess the Date of New Zealand's   First Marlin Capture" through our Facebook page. The
competition was extremely well followed despite the early capture


catching us all slightly off guard so to speak… special thanks to all entrants and participants. Gabriel Henry of Silverdale correctly guessed



the 6th December and was the proud recipient of an 'Arenui Signature Series" 37kg Stand-Up Rod made and supplied by Kilwell Sports from their impressive 'Xantu' Technology. Look forward to Gabriel putting it to good use this season and hearing his reports.
In other exciting news, we'll be further developing our on-line 'Tackle-Shop' in the coming few months with some new and exciting products. We have an Arenui "Custom-Switch" rod to be added to our current "Signature Series" within the coming month. Really looking forward to putting this rod to use, after lengthy discussions and development this little rod should be something special. We'll look forward to updating you upon its release.

Other products including Moldcraft Lures, Teasers and Accessories, Momoi Monofilament & Leader Plus Yo-Zuri Fluorocarbon will soon be available and added to our on-line 'Tackle-Shop'. We'll look forward to making our site more user friendly in the coming months and supplying customers with only top end game fishing tackle.
Click the link www.nzgamefishing.com/tackle-shop and check out our current "Arenui Signature Series" including Rods, Teaser Poles and Gaffs plus our latest Hoody's, T's, Caps and Apparel for the 2015 season.
That'll do for now, with what's shaping up as a cracking season we can't wait to get amongst it… certainly hope you can to.
Until next time!