With our 2014 Far North charter season finally done and dusted and the inclement winter weather setting in, it's given me a chance to finally put together our newsletter covering off what has been a strange season to say the least.
"All or nothing" for both fishing and weather can probably best sum up our season for 2014. When the fishing and weather were good – it really was good, when both weren't so good it really wasn't that good at all! Throughout the entire season the fishing continually threatened to kick into full swing, yet three notable storms (or remnants of tropical cyclones) considerably stirred things up along the far North coast line and further North at the Three Kings.
All three storms during mid Jan, March and April were all relatively short lived and intense, but the effects to the fishing, water quality and temperature certainly lasted a lot longer. At times it was up to a fort night later that we saw any signs of improvement to the fishing, whether it be along the coast or further North at the Banks. Best fishing we experienced occurred during late Feb through to mid March and then we had another great run again in late April through mid May. Our old favourite the King Bank certainly produced well during these times with numerous multi-fish days.
Unfortunately for some of our groups we also experienced some rather slow trips, as mentioned these slow times generally occurred in the few weeks straight after the 'blows'. Some of our evening talks around Arenui's dinner table were fraught with quite a bit of head scratching and frustration in an attempt to find a decent patch of water to fish.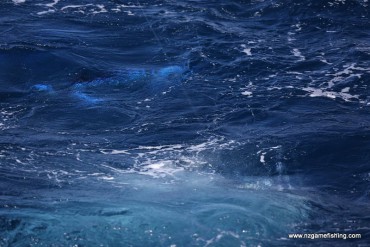 The season is probably best summed up in our two annual "Marlin Master Class" trips, scheduled at the beginning and end of March. During the first trip, our guest's experienced great Striped Marlin fishing on the King Bank with multiple fish caught each day. The second trip was the polar opposite… we raised just the one Striped Marlin (and were lucky enough to catch it!) throughout the 5 day trip. We certainly covered plenty of ground in an attempt to find some fish, but unfortunately sometimes it's just not meant to be.
This year we re-introduced dead bait fishing to most if not all of our groups with some great results. A majority of our guests return each year and are well versed on how we predominantly switch-bait our fish. This year we changed that a little, we still towed teasers when 'travelling' but towed only dead baits once where we wanted to be. This not only to showed guests some new tricks, but all groups enjoyed it and above all else it was quite clear we were raising a lot of fish in doing so.
Check out our You Tube clip of a few of the season's highlight plus a few extras from the previous season… Click here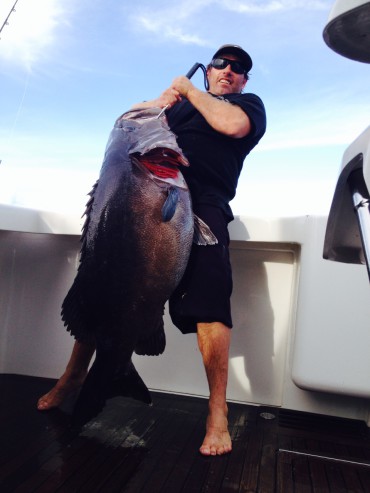 What's up for us now? Arenui is in pretty good shape despite our busy season, we don't have any major maintenance or over hauls planned this winter, especially now we've got on top of our refrigeration issues from the past few seasons! We're pretty excited about furthering our relationship with Kilwell Sports and developing the "Xantu" Arenui Signature Series rod range with them over the next few months. We'll be looking at adding to our current range and making them even more accessible for people to purchase. Many of our guests certainly loved using the "Xantu" rods throughout the season with quite a few purchasing either rods or teaser poles from our range as a result. Feel free to contact me Geoff(Replace this parenthesis with the @ sign)nzgamefishing.com if you'd like more info on this front.
Just a quick congratulations to Shane Cate from Taupo for winning the "Xantu" Arenui Signature Series 50lb stand-up rod for his effort during the first 'Marlin Master Class' trip. The prize was for the most meritorious effort during the 2 'MMC' trips. Although ultimately he was unsuccessful, he fought a very big Sword for a touch under 5 hours and pulled the hooks just beneath the boat… sterling effort and a big thanks to Kilwell Sports for their sponsorship on this front.
Another quick congratulations to Leon Webb and a friend. Leon won the NZ Fishing News subscription prize at the 'Hutchwilco' Boat Show and will be joining NZ Fishing News representatives
for an overnight trip on Arenui during spring.  Kilwell has also come to the party again with a Tica soft-bait tackle set as an additional sponsorship prize… thanks again to them.
Big thanks to all our guests who joined us throughout the season, during a long and sometimes challenging season in certainly made it all the more enjoyable as we always had great clients/friends on board. We certainly look forward to catching up again in Whangaroa next season if not sooner.
That'll do for now, we'll be running the odd trip around the Hauraki Gulf over the next few months and look forward to ramping things up again in spring. We'll certainly look forward to bringing you reports as spring time fishing improves.
Until then!