Ian Lowe Hunting
New Zealand Game Fishing has teamed up with Ian Lowe Hunting to provide guests with the ultimate Hunting & Fishing experience in New Zealand. Ian Lowe Hunting offers a total experience approach to hunting in New Zealand… Ian realizes your hunt should include much more than only your ultimate trophy.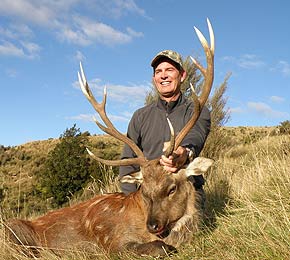 Choose to enjoy a fixed location hunt for Sika, Fallow, Reds, Sambar, Rusa as well as Elk/Wapiti all in the central North Island private hunting area, or go on the road with Ian and enjoy a range of premium hunting destinations and the ultimate tourism destinations within New Zealand. Ian Lowe Hunting also has free range concession for Chamois and Tahr
in the Southern Alps of New Zealands South Island offering hunters the South Pacific's ultimate hunting experience.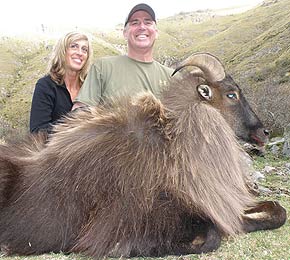 Hunt where you can succeed and harvest the quality you expect, Ian offers all hunters a guarantee to ensure you're never chasing mythical ghosts.
Ian is undoubtedly one of New Zealand's most experienced professional hunting guides. He's even helped structure and set up some of NZ's larger hunting estates but is now operating independently to add that personal touch that seems to be missing in so many large hunting operations.
Ian has guided on several World Record animals throughout the years. Close to his heart however, is the opportunity to guide first time big game hunters. Ian's knowledge and experience in all things hunting is invaluable for those of you who are unsure about whether or not you are up to a New Zealand hunt.
For more on Ian Lowe Hunting click here…