A little over a month ago now I was really looking forward to writing our March edition of the New Zealand Game Fishing Newsletter. We had some pretty big expectations for what lay ahead with some exciting trips planned. As a whole March hasn't worked out as well as hoped solely due to the unseasonal and persistently strong winds from the Easterly quarter.
By all accounts the fishing itself has been pretty good as long as we were able to get a fair crack at it, but with several 35 knot Easterly forecasts (and sometimes 50 knots!!) getting to the targeted Three Kings Islands has been a little tricky to say the least. Adding to the frustration, any little weather window has usually coincided with our changeover day.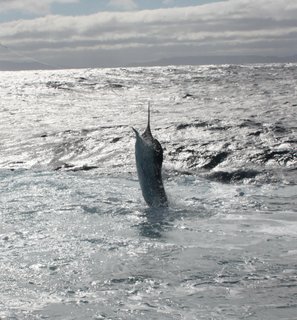 During the early stages of March, to negate the strong Easterlies we headed down the West coast for two trips with reasonable reward. The marlin fishing was a little hit and miss with multiple bites some days followed by pretty quiet days the next, while still fishing exactly the same areas and conditions. Justin Stokes managed his first billfish on one of the trips pitch baiting a small Stripe on spinning reel in choppy conditions.
Jigging for Kings on the Ahipara Banks was generally more than productive with numerous mid range kings to keep everyone occupied late in the day. We even managed to switch a 30kg model for Justin Stokes trolling marlin teasers out off the top end of the bank one morning; once again on spinning gear it ended up being quite a tough 15 minute battle.
As always a visit to the West Coast means a Snapper session the fabled Cape Maria Van Dieman on the way home. During the past month we had a couple of short 2 hour sessions while the current and wind were favourable with reasonable results. No real monster fish to speak of but plenty mid range good eating size for guests to take home.
It wasn't until late March that we finally managed to get through to the Kings with the second of our NZ Fishing News "Marlin University" trips… finally a weather window coincided with the middle stages of a trip rather than changeover time!
During two a bit days on both the Middlesex and King Banks we managed several stripes and the highlight of past month a 132.8kg Bigeye Tuna for well known NZ Fishing News editor Grant Dixon. None of us on board knew what we were dealing with during the tough 2 hour 45 minute fight, so it was a nice surprise when the big fat tuna popped up next to the boat. In everyone's surprise, I managed to clip its shoulder with the wheels. Certainly not a big wound by any means but enough for us to deem the capture disqualified. Still a hell of a capture on 50lb stand up and with it being switched of the teasers making it even a little more special… Great job Grant and who said switching tuna can't be done?
During the trip, we managed a few firsts with Richard Taylor and Garry Bowden both nailing their first billfish with Richard landing two. Christchurch guest Peter Van Eekelen also caught two stripes with one being a first for him on spinning gear.
Jigging for Kings on the Middlesex Bank is currently as good as ever with several released fish up to and over the 30kg mark.
During the last morning we were on the King Bank, in extremely rough conditions we managed two stripes from three bites in just over an hour's fishing. We certainly would have loved to have stayed and made the most of the exceptional fishing, but with the rough seas and a rather large Bigeye Tuna that needed to be weighed and processed we sadly left it all behind. So with high hopes of getting back up the Kings on the following trip, yet again a 40-50 knot Easterly forecast put pay to any well laid plans.
We generally didn't get any further than Spirits and Tom Bowling Bay at the top end of New Zealand on our last trip and even spent an afternoon at anchor playing cards watching torrential horizontal rain blast past the cabin window… nice stuff!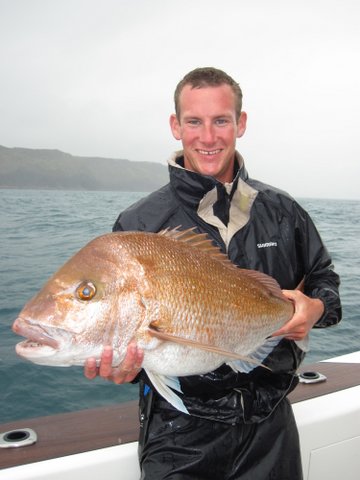 All in all, the guys from Taranaki were in pretty high spirits during the trip and managed some nice catches despite the weather. Amongst other bits a pieces Manu Hay-Vega, Justin Ormsby and Jason Perrett all managed snapper over 15lb while Justin managed a fish well over the 20lb mark during the last day of the trip. To the guys credit all the bigger were released to fight another day.  Not particularly what we want to be doing at this time of year but you take what you can get with the weather being the way it is.
As mentioned, the fishing at the Three Kings is probably as good as it has been over the past couple of seasons and as long as the weather allows we're hoping for some productive trips over the coming month or so. I'll be taking a short break after the next trip and handing over Arenui's reins to the more than capable Chris Ash and my two excellent crewmen Shaun Thomsen and James Brown. We're expecting the birth of our second child so look forward bringing you updates of good fishing and healthy babies.
Until next time!