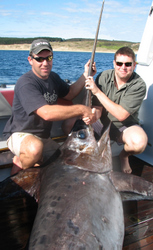 With our busy 2012 game fishing season slowly drawing to a close, we have some time slots available during May and early June that we'd love to fill. 48 or 36 hour trips targeting Swordfish proved to be both popular and successful last season and with the added mix of Bluenose, Kingfish any remaining Striped Marlin on the coast… these shorter trips can be a great way to finish off the season.
Swordfishing during the day and night, has been pretty good with several boats, including us, having success.
We plan on having Arenui in Whangaroa through to early/mid June and then return to Auckland for the annual winter maintenance. If anyone would like to have a crack at a Swordfish before the 2012 season winds up, feel free to touch base.
Our monthly newsletter with how the team on board Arenui got on over April will be out soon… until then!