With our season slowly drawing to a close I thought it would be best to finally send out a newsletter covering off the past few months' action. Apologies to those who have been expecting our updates a little earlier and on a more consistent basis, but a really busy schedule and a mis-placed cell phone hampered my communication with the outside world… I guess better late than never!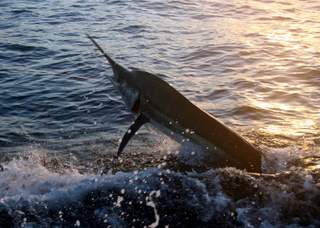 New Zealand's fishing season has been an odd one to say the least, with some of the best fishing for some species and some of the worst for others seen for many years. Blue marlin fishing along the Northland coast was nothing short of fantastic from mid January right through to our last Blue Marlin tussle on the 1st April, many skippers amongst the charter fleet can't ever recall blue marlin in such numbers along our coast. At stages during the months of February and March, bites from mid range blue marlin were well and truly out numbering bites from their 'usually' more popular striped cousins.
Strangely fishing over the full moon in late February was the pick of the season. The North Cape and Parengarenga Canyons region was nothing short of world class during the week, several boats managed multiple blue marlin captures and some reasonably nice ones too. Part time skipper Jeff Strang had a day to remember on board Aurora nailing 3 blue marlin and 2 two stripes as well as missing another blue around the 800lb mark.
Fishing throughout March slowed a little, however you could still just about bank on getting a bite from a reasonably nice blue marlin every single day if you put the miles in. With the numbers of blues present I was waiting for someone to cross paths with a real slob of a fish, but for my money no one seemed to have that privilege this time round. There were certainly a handful of nice ones to grace the scales at Whangaroa, BOI, Tutukaka and Mercury Bay including Mick Ellwood's 393.8kg beauty on board The Immigrant, but no one managed anything nearing grander status as I thought may have happened this year.
We managed to raise one donkey of a fish during Nationals in late February in which we couldn't get to eat… not to be this time round! Other than that all other blue marlin experiences for us were of the 400-500lb models.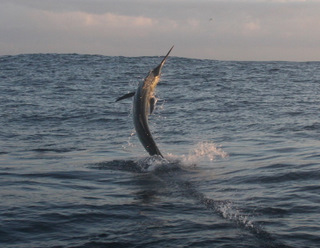 Conspicuous in their absence this year were New Zealand's favorite, the Striped Marlin, probably the worst season I can remember for Stripies in fact. Once the blue marlin departed with warmer currents, our marlin fishing certainly slowed considerably with the usually productive Three Kings Islands just about being waste of diesel and time if Stripes were your target species. In saying that, we still managed at least one billfish for every one of our extended charters this season other than our trip with Tim & Leanne Tasman-Jones, although they can possibly be excused trying to catch one on fly in an Easterly of 30-40 knots!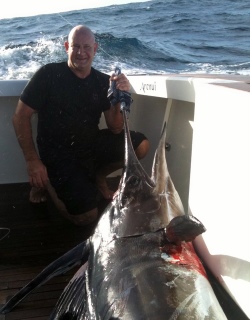 Our last trip just gone, ended up being pretty good despite all the doom and gloom throughout April. We had Carl Cleverly and his west Auckland clan on board for 5 days and ended up with 6 stripes in two days fishing on our favorite the Middlesex Bank. All the stripes caught on the trip where of the XOS models that seemed to be missing in action throughout the 2011 season. Up until Carl's trip I don't think we raised a stripy over 100kg, but we certainly made up for that in a couple of days fishing.
There's also been some world class Swordfishing this year just off our Northland coast and certainly handy too. The Garden Patch has produced some excellent fishing during both the night and the day for those prepared to put in any amount of effort. These swordfish caught have ranged between 150lb right through to beauty's nearing 700lb as with the Swordy sadly disqualified for angler Guy Jacobsen. Teams on board Te Ariki Nui and Hookin Bull fought really nice ones for multiple hours only to have sad endings, while private crew on board BlueFix managed two in one night showing us charter operators how to do it!
As always we put in a bit of effort targeting bottom fish… kingy's, puka's, bass and bluenose amongst the species especially when the billfish fishing has been a little on the slow side. Several PB's have crossed Arenui's covering board this season, not forgetting Leanne Tasman-Jones salt water fly world record snapper on 8kg tippet.
All in all the 2011 season has been a little mixed, although we've had some great fun and reasonable catches we've had to put in quite a bit of effort to get results. As always, we've really enjoyed showing guests new tricks, a number of our groups swear they'll never tow lures again after going through the switch baiting program with us… this despite the fishing not really being red hot, just great to know people enjoy it and willing to give it a crack.
We seem to have played musical crewman a little bit this year with a number coming and going, but a big thanks to Bevan Beauchamp, Adam Bartley-Smith, Rowan White, Todd and Adam Evers, Mark Vessey, James Brown and no one more so than Shaun Thomsen. Those of you lucky enough to be on board with Shaun will agree that the guy is an absolute champ and New Zealand Game Fishing Ltd team look forward to having him and one other back next year on a more permanent basis.
After writing this and considering the past few months I'm already fired up about getting out there again and look forward to having many of you back on board Arenui sometime soon … roll on next season!
Talk soon.