With the wintery chill in the air, we bid a fond farewell to what has been a reasonably productive 2015 game fishing season. Things certainly started off with a bang with the fishing during late January through mid February being exceptionally good, especially at our favourite haunt the Three Kings Islands.
Our early groups were treated to fishing which was quite special and looking back we probably didn't fully appreciate the (early season) situation for what it was. I recall on some days, both crew and guests feeling slightly "ho-hum" about only catching 4 marlin in a day with other days netting anything up to 8. By late season we were doing our very best to scrape together 4-5 marlin for the entire trip… my how things changed!
All our groups choose to fish the Three Kings with the hope and plan that the fishing would kick into gear once more and we could take advantage of the autumn bite that we've been so accustomed to over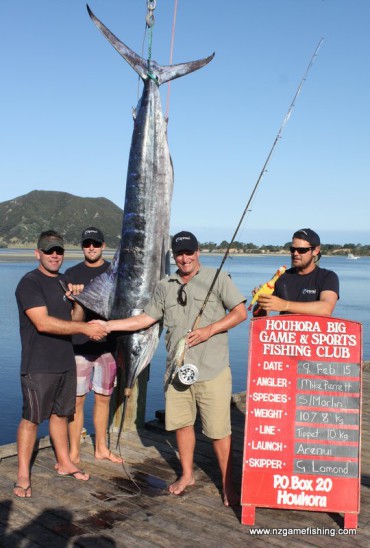 the years. This year (at the time of writing anyway) the late flurry just wasn't to be, persistent SW breezes put pay to that with only 1 – 2 bites a day being witnessed on the King Bank during our last trip.
Overall we had a great season weather wise, which sometimes is a challenge of its own in New Zealand. There were a couple of nasty (but brief) systems that passed through, but luckily they coincided with our scheduled weekends off every 3 weeks or so. All our groups experienced good weather with the odd uncomfortable day (and night) thrown in for good measure.
Although the fishing somewhat tapered off as the season progressed, a good majority of our guests went home having had successful experiences of some regard. Dan Shaw and his merry men from west Auckland witnessed some of the better fishing, releasing up to 8 stripes in a single day while Mike Perrett battled with 5 Stripies on his fly rod in a single day to be finally successful late in the afternoon with one that weighed just 1.3kg short of the current world record.
Here are just a few of our seasons highlights in no particular order;
• Marcus Foot – Winner Tutukaka Anniversary Tournament (Most Tagged Billfish)
• Mike Perrett – 107.7kg Striped Marlin caught on 10kg Salt Fly Tippet
• Dan Shaw – Striped Marlin est. 190kg (released)
• Marcus Foot – Blue Marlin est. 250kg (released)
• Ross Perrett – Black Marlin est. 200kg (released)
• Garry Dennison – Blue Marlin est. 250kg (released)
• Shane Wilson – Striped Marlin on 10kg line (released – one of a double caught)
• Marcus Foot – 190kg Broadbill Swordfish
• Graeme Henderson – 80.7kg Southern Bluefin Tuna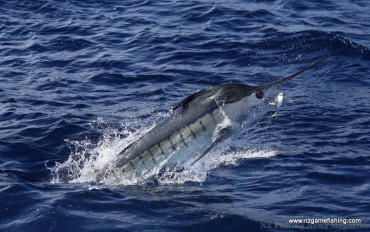 Congratulation goes out to all our guests that were ultimately successful in capturing not only their first billfish but also subsequent captures. We had a number of both new guests and familiar faces this year and it's always pleasing to see happy faces depart with intentions of rejoining us again in 2016.
Check out the link… "Arenui 2015 Highlights" featuring a select few highlights from our season.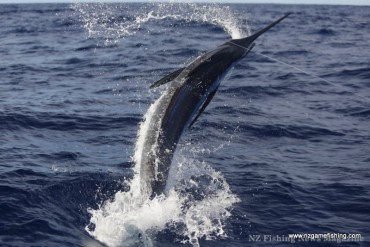 On a slightly different tact, a special thank you goes out to all our groups that happily released their billfish this season. In a quick calculation I think we released around 95% of the total billfish we caught this season which is a far cry to what's happening around the traps on a national level. All in all I think it can be agreed that both Marlin, Swordfish and Tuna taste great when processed properly, but we only need to look at our Sport Fishing Council's Yearbook in comparison to other countries catch/release rates to realise our recreational sector seriously needs to start considering how we're going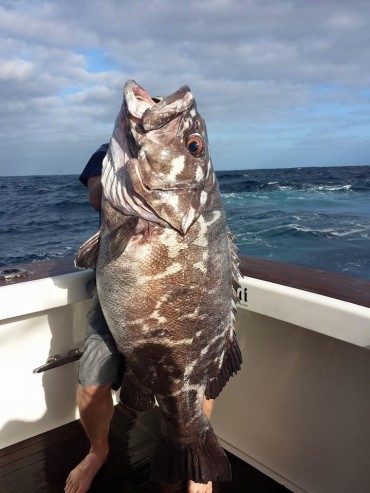 about things… anyway a touchy subject best left to another time and place.
On a bottom fishing front, we also managed some great captures throughout the time up north. Although we don't overdo it on this front, we generally always set a little bit of time aside so guests can at least have one fish meal on board and a feed to take home. XOS Kingfish and Bass are generally high on the wish list for any trip to the Three Kings Islands and on many occasions people weren't disappointed. The biggest Bass of the season went to Jeff Davis of Kerikeri with a fish around the 65kg mark, closely followed by Adam Dyck's effort close to 60kg. We had some great sessions on the Kingfish too with Matt O'Sullivan probably catching the biggest at around the 40kg mark.
We'll be be moving Arenui down the coast to Tutukaka in the coming week or so to concentrate on winter Swordfish trips before bringing her back down to Auckland in mid to late July for her annual maintenance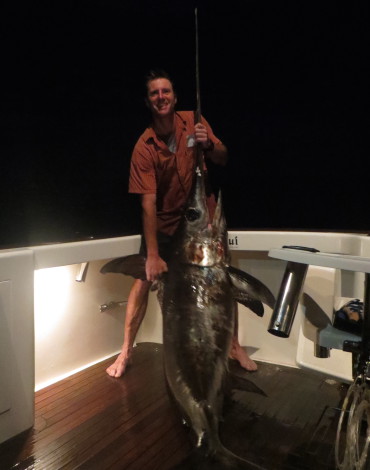 program. This winter we have no real issues to be seen to other than what is the norm so hopefully over the coming month or so we can experience some good breaks in the weather and add to what has already been a successful season. As you'll be aware the wider grounds out from Tutukaka have produced some notable captures over the past couple of years. If a winter Swordfish trip is of interest please don't hesitate to contact us at geoff(Replace this parenthesis with the @ sign)nzgamefishing.com.
Other plans for winter include finally up grading www.nzgamefishing.com and providing an E-Commerce Avenue for purchasing top end game fishing tackle through our very own on-line Tackle Shop. We'll be looking to make the site a lot more
user friendly in this regard while substantially developing our product range. Products from Mold Craft Lures. Momoi and Yozuri will soon be featuring along with further development of our fantastic 'Arenui Signature Series' rod range in conjunction with Kilwell Sports. While


we're on the subject… a very special thanks you to our sponsors Kilwell Sports for their on-going support, we certainly look forward to continuing with promotion of their ground breaking technology. Regular NZ Game Fishing newsletYour Linkters will keep you informed on our progress, product range and specials.
Last, but by no means least… a special thanks goes out to both Kieran Pullman and Brad Bennetto for their tireless efforts over the past season. I'm sure I speak for all guests when saying they've really added to our operation with their endless work ethic and desire to please on all fronts. For two young guys who started out with us – first year on the job, they've exceeded all expectations and more, we're very proud that they're now one of us… thanks guys and look forward to many more successful days fishing together!
On that note we'll leave it with you and look forward to keeping you posted on our progress over the winter months.
Until next time!