We're finally underway with our new boat 'Arenui'. So far fishing, weather and the boat have all been great despite a couple of minor teething issues and the odd Tsunami false alarm here and there.
Our inaugural trip was rushed to say the least. 'Arenui' arrived from Australia in mid Feb and we immediately had it out to Harkin Boat Builders in Pine Harbour to install a live well in the cockpit. Brian and his team did a fantastic job and we can't thank them enough for the fast turnaround getting the boat back in the water in time to fish the NZBGFC "Nationals".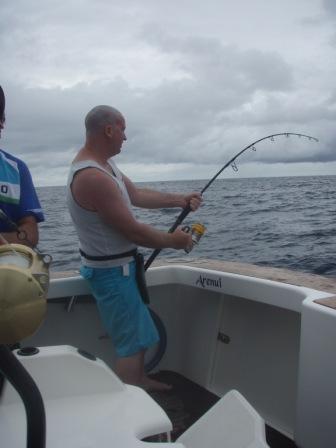 The "Nationals" consisted of a pretty mixed week of fishing for everyone, with some excellent days had followed by some pretty frustrating days to say the least. Of particular note the boats 'Moet', 'Libertas' and 'Reel Passion' had some good fishing throughout the week. Our best day consisted of 4 striped marlin fishing at the southern end of the Middlesex Bank.
Both the King Bank and the Middlesex Bank had their moments throughout the week. With a morning bite usually on the King Bank and a tide change bite on the Middlesex, unfortunately it took us it took us a few days to work this out… hind sight is a great thing!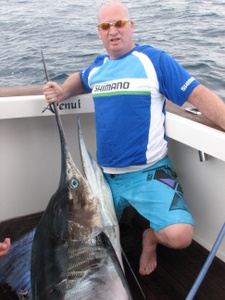 Of particular interest was an excellent Yellowfin Tuna bite wide of North Cape with "Meat-balling" action consisting of whales, whale sharks, big Yellowfin, Bigeye and large Albert's. Some of the Yellowfin taken exceeded 60kg in some action unseen in New Zealand waters for a number of years… here's hoping they all pop up again.
Our second trip consisted of taking Darrell Cottle fishing. Darrell has been diagnosed with Melanoma and one of his 'bucket list' wishes was to go game fishing. It was an enjoyable trip for everyone involved, we managed to catch 2 stripey's on our Stella 20000 spin reels including a 102kg Striped Marlin for Darrell. Darrell also managed to release another the following day on 8kg conventional tackle. Big congratulations to Darrell on a sterling effort.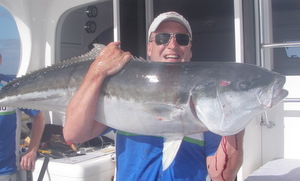 On a jigging note, some huge kingfish are present on both banks at the moment especially the Middlesex. We spent a little bit of time doing this during the tournament and managed to catch a few pushing the 30kg mark! Biggest going to Mike Perrett that easily bottomed out our 25kg scales.
We're back out fishing again this week…
Talk soon!