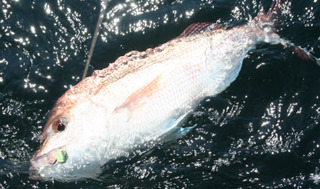 After a mild yet extremely wet winter spring has finally arrived. With the seasonal weather change, the Hauraki Gulf snapper have certainly turned up in abundance with many crews enjoying the sun on their backs and getting amongst the action.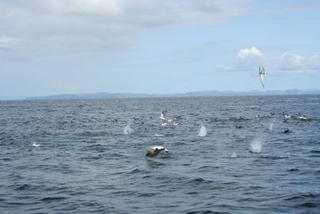 Gannets, dolphins and whales have been the dead set give away for the anchovy and pilchard schools anywhere between 50 and 30 mtrs out in the middle of the gulf. The action under 'work ups' has moved in substantially over the past couple of weeks with a large area of action just north of the 'Noise's' between the 30 and 40mtr mark. Reports from later in the week suggest the action had slowed a little, but I'm sure things will resume as per normal with good signs for the coming months… Roll on summer!
Also reports of some really nice trophy fish holding in the fowl, one friend managed half a dozen over 14lb following an evening's bait fishing in the wider gulf… all good fun.
Our winter months have been kept busy with the maintenance program for 'Arenui', a short stint blue marlin fishing in Japan of all places and Game Fishing Seminars run in conjunction with the NZ Fishing News team.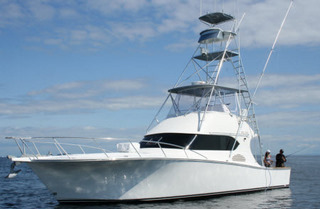 We had Arenui out of the water in early August for her annual survey, anti-foul, engine service and all those other odd jobs that seem to mount up on you during the year. The boats looking great and we're already looking forward to the summer months ahead. Bookings have been coming in steadily for the 2011 season and by all accounts we're going to be more than busy. We'll have a number of old and new friends on board with us over the coming summer months and already have a number of fun trips planned for the coming season. We still have some available dates for the 2011 season fishing the far north, some of the dates still available fall on favourable moon phases… feel free to enquire through Geoff(Replace this parenthesis with the @ sign)nzgamefishing.com
Had a great time in Japan and meet some pretty cool people that will hopefully join us one day in NZ. I was flown over with a good friend to fish in the Japanese International Billfish Tournament and then spent a week fly fishing for mid range Blue Marlin. The fishing was surprisingly good and we managed to get amongst our fair share of action on the fly rod. Japan's an incredible place with a fishery that has been kept secret for a number of years now, from what I saw there I'm looking forward to the next trip already.
The 'Game Fishing Seminars' run in conjunction with NZ Fishing News have been a real hit. The first Seminar run through WS Laurie's & Co sold out in a number of days and proved so popular that a second was planned through 'The Big Fish' fishing club at Half Moon Bay. We still have some tickets available for this one, as advertised in the latest edition of NZ Fishing News Magazine so feel free to touch base if you have the evening of the 9th November free. There 's been a little bit of work involved in putting the evenings together, however it's all been good fun and we look forward to meeting everyone on the nights mentioned.
Over coming months we'll be getting busier and busier on board Arenui so I'll look forward to keeping you posted on our progress as the fishing and weather improves. Till next time… good luck!