Geoff Lamond, on behalf of New Zealand Game Fishing Ltd is both proud and excited to announce the arrival of New Zealand's newest charter boat… coming very soon!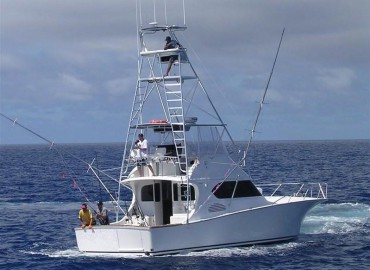 The new boat is due to arrive in New Zealand mid January 2010 and will be the first O'Brien vessel to grace New Zealand shores. We're obviously really excited about the coming summer months and beyond. It's something that we've planned for quite some time, but now it's time to let people know and take bookings for the upcoming summer.
During the summer and autumn months the new boat will be based in New Zealand's Far North specialising in trips to the famous Three Kings Islands. During the winter months the boat will be based in Auckland where we'll look to run trips to the outer Hauraki Gulf Islands such as Little and Great Barrier and the Mokohinuas.
The (yet to be named) 47ft customised game boat was launched in 2006 by renowned North Queensland boat builders, O'Brien Boats. O'Brien's are responsible for more than 30 customised charter boats that operate successfully along the entire length of Australia's east coast… It's probably fair to say that O'Brien Boats represent the 'backbone' of Australia's charter fleet.

The boat has fantastic accommodation, it's an excellent sea boat with excellent manoeuvrability, huge freezer and refrigeration capacity and a great live bait and tuna tube system, it all makes the new boat well and truly suited to New Zealand's fishery… we're certainly looking forward to having some old and new friends back on board with us this summer.
For all our past guests, you will be happy to hear that both Chris Ash and James Brown plan on being back on board with us again with the new boat… I'm sure they're looking forward to it too.
As mentioned earlier, the boat is due to arrive in New Zealand in mid January and we plan on having an unveiling of the new name, an open day BBQ and few drinks with friends and past clients to celebrate her arrival. A date will be confirmed closer to the time but we certainly hope that some of you can join us.
We're expecting a busy inaugural season to kick things off, and have some exciting trips planned already. Once again I'll be doing a stint on the Great Barrier Reef this spring but will be returning earlier than usual to plan for the upcoming season.
Enquiries to fish on board with us are certainly welcome via Geoff(Replace this parenthesis with the @ sign)nzgamefishing.com
We look forward to both hearing from you and having you on board!